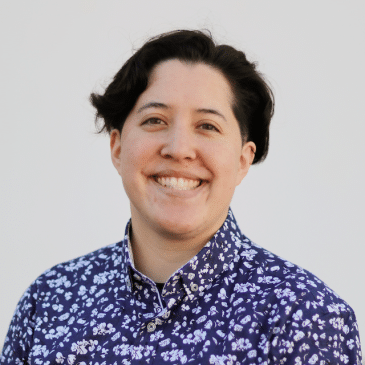 Introducing June's featured guest on Conversations with Carmen, Alex Rhodes! In this installment, Alex shares their transition from Community Mental Health to private practice, highlighting the differences in intensity and availability.
Discover captivating insights into their unique experiences and inspiring stories related to their life and private practice by  reading the full interview below.
You shared that you joined the Soultenders provider network in early 2021 subsequent to having worked in Community Mental Health for some time. Was what the transition from CMH to private practice like for you? How did CMH prepare you for working with private clients?
The transition from CMH to private practice was a big change for me. I was used to working with a much more intense population so the intensity of services differed for sure. I was also used to clocking out at a certain time, whereas in private practice my clients can reach out any time. CMH helped prepare me for working with private clients in that it really prepared me to be able to work with a variety of clients with many different presentations.
You shared that a good portion of your professional history consists of having provided direct therapeutic and case management services to the unhoused population. Are there any key takeaways from having worked with that particular client group?
I think that working with homeless individuals really showed me the humanity of every single person I meet. Seeing the resilience of these people and how they are just trying to make ends meet or find a safe place to sleep at night without their belongings being stolen, that really struck me. In holding empathy perhaps for a homeless individual who had missed a doctor's appointment, I had to shift my perspective to consider whether or not the doctor's appointment or policies were truly accessible to this population and think about how circumstances coalesce to sometimes make keeping an appointment difficult. We are all doing our best to get by, and one key takeaway I had from working with this population is that there is a lot of work that I can do to make services more accessible to more people. 
You spoke a little about your ability to connect fairly easily with various clients (on many levels). Can you please elaborate on this?
I think that it's possible to connect with some part of every person I meet. Whether that's through music, video games, or a favorite restaurant, there is something that can connect us across our differences.
How do you 'show up' for your clients? What does building and maintaining therapeutic rapport look like to you?
I usually start off my sessions with a quick check-in and remind clients that they are in the driver's seat for a session. I give my clients my full attention and make sure to let them know that they have a safe place to speak about what's concerning them. I always name the limits of confidentiality so that clients are aware of what they are sharing and if it might cross the line into a mandated report. I make sure to let the client know if I have to make a report, as that is crucial to maintaining our therapeutic relationship and bond. I've seen how an unexpected visit from the police can rupture a therapeutic relationship, and I don't ever want to be the cause of that, especially since many communities have differing levels of trust in the police/legal justice system. I also make sure to normalize that clients may notice a boundary come up in the middle of a session, whether that is physical or psychological, and that it is important for both of us to respect the boundaries that show up. I frame this as a way of practicing consent and listening to your body, in terms of not pushing too far past what is safe in the moment.
You mentioned that you have a keen interest in working with the following client populations: teens & young adults, neurodivergent, LGBTQ as well as AAPI (Asian American Pacific Islander). Can you please expand on the uniqueness of each?
I really love working with teens and young adults because they are at such a critical period of time with figuring out their identity and independence. It's remarkable to see the drive and passion of teens in terms of how they want their lives to look, while at the same time navigating still living at home and working with their parents' ideas.
I think that more of us are neurodivergent than we would admit. I really see working with this population as just normalizing that different people have different ways of functioning and processing and coping with what they are dealing with. It's important to me to create a space where anyone can feel welcome and able to express themselves, even if they don't fit the typical ways of talking about their feelings or holding a conversation.
I love working with the LGBTQ population, as these are some of the fiercest individuals I know. Having to come to terms with sexual orientation or gender identity that isn't necessarily the norm, means that many LGBTQ people have done a lot more identity work and reflection than the average person. I find that this group is so insightful.
I work with many children of immigrants and first-generation AAPI clients, and I think that this brings a different perspective to their experiences and expectations of themselves. Often for many of the AAPI clients I work with, they are expected to care for their families in ways that we don't typically see in our Western individualized framework, and that definitely adds a layer of complication to setting boundaries and communicating needs.
As far as working with AAPI clients is concerned, you shared that intergenerational trauma is a fairly common area of focus. Can you please say more about that?
Many of my AAPI clients come from families that have fled violence and immigrated to the US. In therapy it's important to recognize the visceral effects of violence and having to assimilate to fit in, as well as how different cultural ideas and understandings shape a person. We as humans learn a lot about our world from our caregivers, and when our caregivers have experienced trauma, it can often be passed down to us through habits, ideas, worldviews.
What are your thoughts on intersectionality? How does intersectionality factor into your work with clients?
Intersectionality is a crucial part of my approach to life and my work. We are not just one-party or one-identity people. I am not only a half-Chinese person, I'm also a non-binary person who is queer and trans and grew up on the East Coast then moved to the West Coast. All of my experiences impact how I see the world and how I move through it, with various levels of privilege and oppression based on my many intersecting identities. I apply this framework when working with clients, because I find that it is vital to acknowledge just how differently someone may get treated based on how they are perceived and how their identities are understood. It's important to understand the cumulative effects of multiple interlocking systems of oppression when working with clients, so as not to invalidate their experiences. 
You referenced previously utilizing the Harm Reduction approach to treatment in your work with the unhoused population. What specifically did this entail? Have you had subsequent opportunities to make use of this approach within your private practice?
When I worked with the homeless population, many of them were struggling to get through each day and many used substances in order to do so. The Harm Reduction approach entails still working with these people, recognizing that they are simply trying to survive, rather than penalizing them for engaging in those activities as some abstinence-based programs might require. I do use a Harm Reduction approach within my private practice, mostly in that I normalize with clients that they may use different coping skills to get through each day and that my goal is not to make them stop using substances but to see if we can find alternative coping skills that are less harmful to them.
How do you measure client success/strides? How do you address clients who may experience a moment of setback or regression while in therapy?
Progress is not linear, so I don't make a huge deal about client success or strides forwards. I frame my work with clients based on the goals that they set with me in our sessions. Some clients may have difficulty regularly attending sessions, so one goal might be to improve attendance and participation. In that instance, having a client come regularly to session is a success in itself. When a client feels that they've had a setback or regression while in therapy, I talk with them about how progress isn't linear and how, just like we go through ups and downs in life, we'll see ups and downs in our therapeutic journeys as well.
 You referenced that part of your overarching approach to therapy with your clients is "normalizing [for them] that we use the coping skills accessible to us". Can you please elaborate?
I've found that many teens or young adults that I work with are initially hesitant to speak about their vaping or marijuana use, as many adults they have talked to have responded with some sort of statement that the teen needs to stop relying on the vape or cannabis. I think that this is an unnecessary moment of disconnect and judgment on how the clients are choosing to live their lives.
I try to talk to the clients about what coping skills they are using and why they use them. Mindfulness techniques are wonderful, but they're not always helpful if an anxious client is in a situation where they simply cannot escape the sound of yelling.
I've also worked with many teens or young adults who dissociate, and many have a sense of shame attached to this response. My approach is to recognize that in a scary situation, sometimes the only safe option for a person is to dissociate or to freeze or to flee, and try not to be mad at themselves for coping in these ways.
In therapy, we can work to acknowledge that maybe a certain coping skill was accessible and useful in a previous situation, but it may not need to be the go-to coping skill for current or future situations. 
 You mentioned that you integrate a myriad of therapeutic orientations into your practice such as CBT, Psychodynamic Therapy (specifically Object Relations) as well as Strength-Based Approach. What are your thoughts on how each approach is of potential clinical benefit to your clients?
I think that the structure of CBT is useful for clients because it really helps them to recognize how the ways that they are thinking about things can truly impact how they feel about them and their physical symptoms. I vibe with psychodynamic therapy because we walk through life and every interaction we have has some sort of impact or effect on us.
Because we can't always be processing new information, we categorize people or places or things based on what we've encountered before or what we have come to expect. In this way, we might project an idea or expectation onto someone or something, that isn't necessarily true to the interaction we're having.
Using psychodynamic therapy and object relations theory, we can unpack these short circuits and choose to make different choices moving forward. I use a strength-based approach with every single one of my clients, thinking about their resiliency, strengths, supports, and how they affect others.
You shared a little about your affiliation with WPATH (The World Professional Association for Transgender Health) and GLSEN (Gay, Lesbian & Straight Education Network). Can you please clarify what each of these associations/networks is (in terms of mission and vision)?
I am a member of WPATH and I follow their Standards of Care for working with trans clients seeking gender-affirming treatment. Given the varying requirements put forth by different insurance companies, adhering to these Standards of Care and its clinical guidance means that clients will be able to get the treatment that they need, with appropriate informed consent.
I am the Director of Youth Engagement for the Los Angeles chapter of GLSEN, a national nonprofit that works to ensure that LGBTQ and gender-non-conforming youth are able to learn and grow in a school environment free from bullying and harassment. I have been on the Board of Directors since 2021 and in my role, I have developed the Youth Fellow Program, in which a high school student in the greater Los Angeles area applies to be part of the GLSEN LA Board and work on a project or program of their choosing.
The current youth fellow successfully led a Prom! In April, working with the Board and various community members to put on this event for high school students in Los Angeles County. I also work with GLSEN as a PD Facilitator, facilitating professional development training throughout the US with teachers and administrators.
Do you envision your practice growing/expanding in additional directions? If so, what does that look and feel like to you?
I do envision my practice growing and expanding, but right now I'm going with the flow and we'll see what happens! I'm just so thankful that I can hold this space for my clients in times of need.
You shared that your hobbies include art, music (piano; trumpet), writing, swimming and enjoying Sci-fi fiction. How would you say enjoying these hobbies on a consistent basis promotes your readiness to fully engage with your clients?
I've experienced burnout before, and I know how important it is to take care of myself, given that I'm holding space for my clients and sometimes hearing really difficult things. I've found that expressing myself through art (drawing, painting, digital sketches) allows me to translate my emotions and feelings in a way that sometimes escapes me when I try to put them into words.
I find that being able to express myself this way is so freeing. I would say that music is a point of continual connection for me, a way of resonating with an emotion or feeling someone's pain or sorrow or happiness through their music. Sometimes when I'm not necessarily able to really address an emotion that might overwhelm me, it helps to listen to a song in the same vein and to feel that I'm not alone.
Writing is one way that I've been able to translate my emotions (when they are amenable to words) and I've found that creative writing is really fruitful for me. A story may be set in another world or between two people who I might never meet, but if I can convey the emotional impact, that is successful. I think writing has also helped me to process some of my own journey over the years and I'm thankful for that.
I grew up swimming and going to the beach, and I'm honestly most at home when I'm in water. I often think about life and change in terms of waves and tides and cycles, so a lot of my metaphors come from that. When I need to relax, I'll go swimming and just being able to float and flow with the water helps rejuvenate me.
Finally, I love science fiction. I feel like so much of science fiction writing is based on taking these ideas or struggles or conflicts that we face every day, and setting them in a different world or place or situation so that they feel new and fresh. But the ultimate struggles run the same. I also just really love space operas and the philosophy behind outer space.
I know that space and the idea of infinity and vastness can be overwhelming for some, but for me, it speaks to the infinite possibilities and outcomes that can happen. Anything is possible. I also vibe with the curiosity and creativity that comes from thinking about exploring an unknown planet and interacting with creatures or humans or beings that you haven't interacted with before.
Is there anything else that you would like us to know about you that I didn't inquire about?
My journey to becoming a therapist has been all over the place; I wasn't one of those kids who knew that I wanted to be one from a young age. It wasn't until I went to therapy myself in college that I realized that I wanted to hold this space for others, just like how my therapist had done so for me. Growing up, I thought that I wanted to be a research scientist and to make new discoveries and get my PhD, but my actual experience in wet labs and life science classes left something to be desired. I found myself searching for meaning, for a reason to be interested in the task at hand, when what I was doing was so removed from the interpersonal. I was drawn to spaces where I could interact with others face-to-face and hold empathy for them and what they were going through.
Other Related Blog Articles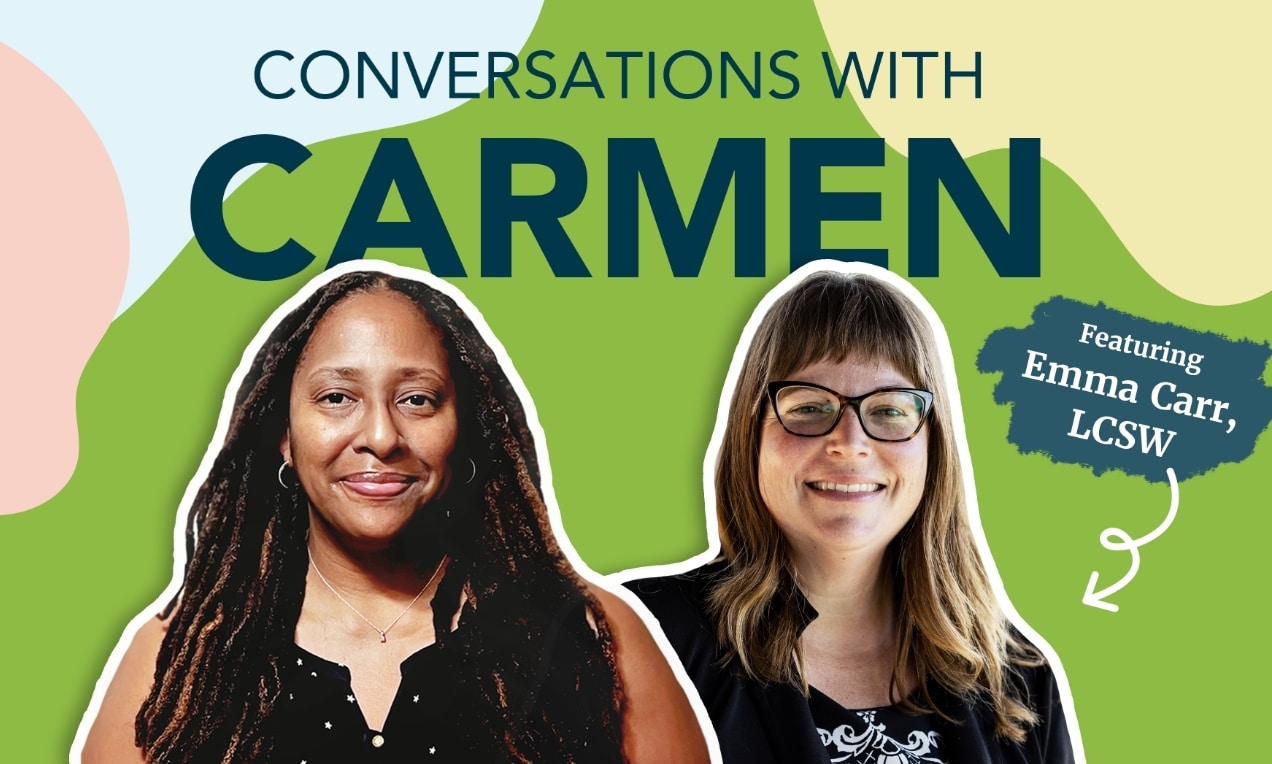 This month's installment of Conversations with Carmen features Emma Carr. Discover captivating insights into h...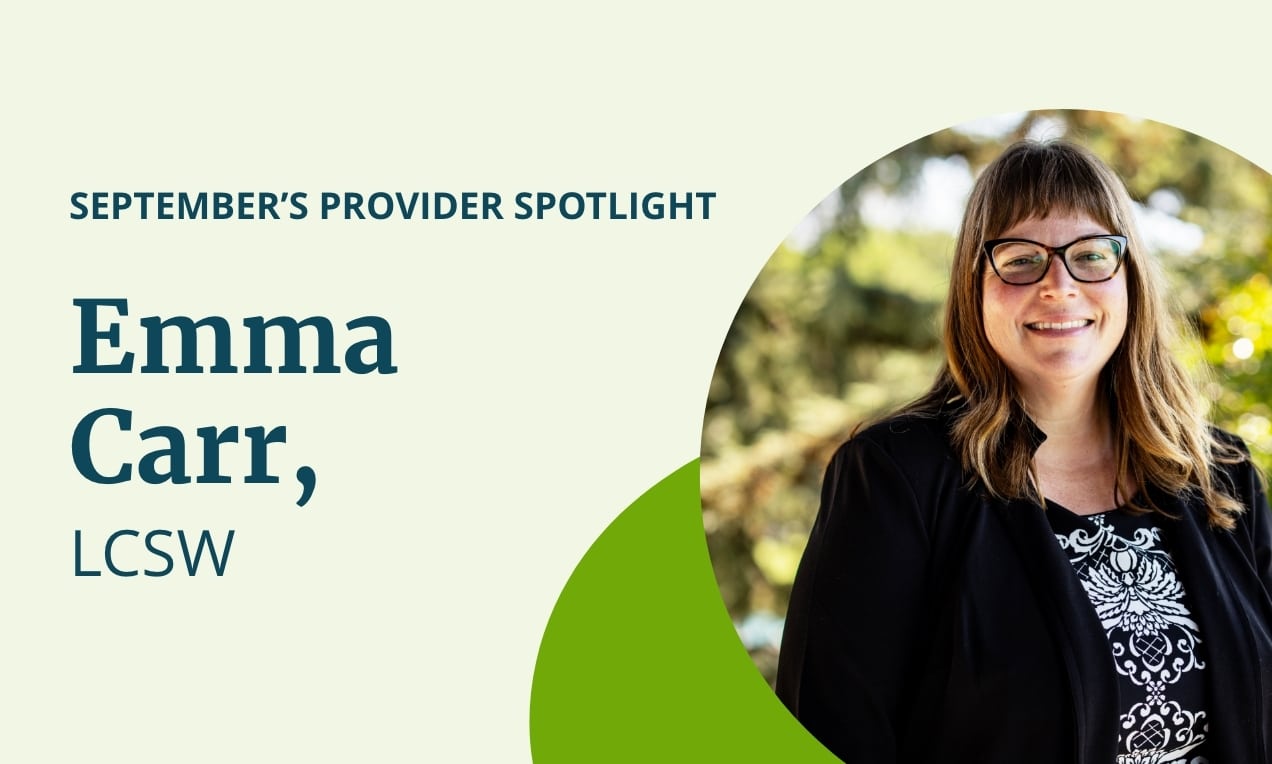 Congratulations to Emma Carr on being the Provider Spotlight of the Month for September! She has been running a succ...
Soultenders Main Blog Categories