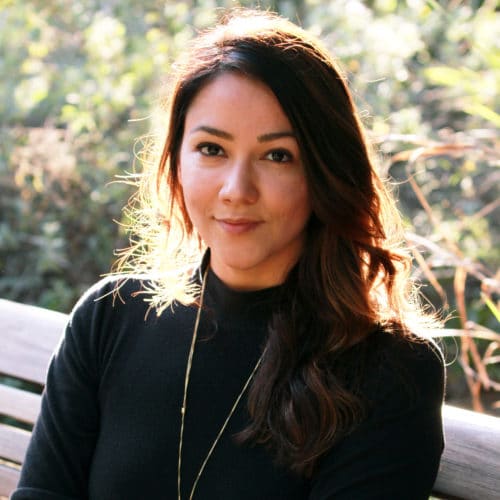 This month's conversation is with Cristina Castrillon, LMFT! Watch the video below to learn more about her and the experiences and stories she has about her practice or scroll down to read the interview.
You shared that you are a bilingual (Spanish/English) clinician. Would you say this personal strength has been far-reaching (in terms of caliber and depth of service provision) in your clinical practice? How so?
I would say it has allowed me to integrate deeper conceptualization due to variations in the use of language and description. It has also widened my cultural lens with individuals who have had barriers and experiences due to their language and cultural differences. It has provided me with a firsthand or increased empathic point of view.
You shared that you relocated from Colombia, South America, to California at the age of 4. Are there any noteworthy takeaways from the experience that contributed to the development of your individual self (personally and professionally)? 
Being an immigrant came with its fair share of struggles and challenges in being different in class, wealth, access, language, traditions, etc.  My mother always wanted us to remain as close as we could to our culture, but yet we had to assimilate to this country.  It created a lot of internal dualities for me and made me strive to do well in my career, but mostly grew a drive for me to help others.  I think it helped create my yearning to help others particularly to feel seen, respected and understood.
Having been in private practice since 2016 and affiliated with Soultenders since 2017, what would you say are important elements to consider when working towards developing a thriving business?
I think you need to have a deep passion for whatever service you provide as it takes a lot of internal motivation.  You must believe in the importance of what you provide and your unique abilities.  It is important to understand the complexities of meeting people where they are and that we can try our best clinically, but there has to be a reciprocal process happening in which the client is also ready to work on change.  Most importantly is practicing what you preach and being able to do the continual internal work as well, especially the self-care and keeping a balance between the personal and professional.
In terms of your history with Soultenders, you shared that you were originally located in the Arcadia office and subsequently transitioned to the San Marino office where you provided clinical supervision. Did the supervision experience enhance your therapeutic services when working with your clients? If so, in what way(s)?
It did!  I think it helped me continue my learning and curiosity.  Allowing me the ability to conceptualize and process in new ways outside of my personal work and experience.  I learn most in collaboration and often feel most curious interpersonally, so it was a wonderful experience growing alongside my team.
You shared that you have an extensive clinical history working with severely mentally ill clients in hospital settings. What is unique about working with this population? How did that 'season' of your professional experience grow and develop you as a provider?
I think like most of our work the true learning comes in the doing.  I had read and studied about the most intensive cases and treatments but experiencing it clinically and very much humanly was another story. I got a unique understanding of chronic mental illness. Folks often marginalize people living without homes or in board and care facilities and individuals who have just experienced a psychotic break or just had a suicidal attempt.  It allowed me to get a more medical lens on treatment and yet a very humanistic experience.  I feel what was most unique was learning how much our society stigmatizes what we don't understand. Also, learning to never jump to conclusions, be open to multiple approaches and avenues, and, most of all, always lead with kindness. 
You shared that a significant portion of your current clinical practice comprises first generation women. What inspired your interest in treating this specialized population?
I think both my experience as an immigrant myself and also the community in which I was practicing inspired me.  Southern California is home to a lot of first-generation individuals who are now interested in self help and continuing their growth process personally and professionally. I resonated with and had a deep understanding of the population and found both my personal and professional understanding to be helpful.  
What are some of the unique clinical concerns that surface when working with first generation clients?
There are many unique themes that I have again experienced myself and done research on over time. Themes such as: interpersonal conflict with parents and extended families because of generational differences, trouble with identity and religion, issues with substance abuse or trauma in families that have created generational trauma, difficulty with autonomy and struggles with guilt and shame, social, racial, and wealth related barriers.  This is just to list some, but there are definitely more.
You shared that your interest in trauma work inspired you to become certified in EMDR. How has this enriched your practice?
It has provided me another tool in the toolbox to use, especially for the more unconsciously blocked facets of the human psyche.  It allows me to delve deeper than the conscious level of treatment and often make really profound and lasting neurological impacts.  It is also useful for faster processing, time wise, and the substantial research that has been done and scientifically backed helps clients be open to it.
How would your family and friends describe you?
I think they would say I am caring, passionate, determined and thoughtful.
In addition to first generational clients, what other clinical populations interest you at this point in your career?
I would say I enjoy working with trauma in general, as well as anyone wanting to increase their level of awareness in any way.  It is always exciting to walk with someone on that journey, the specifics don't matter so much to me.
What is Cultivate Calm? What is the goal/mission embedded in this endeavor? Why is it so meaningful to you?
Cultivate Calm is the private practice I recently started. The hope is to provide cultural and trauma informed sensitive care and to work to cultivate spaces for mental health awareness and consciousness. For now, it's providing that via individual therapy work, but possibly in the future it can expand to include more holistic forms of treatment, as well as group components. It's meaningful to me because it allows me to push myself in creating my own business while doing what I love and expanding the way that I can help the overall collective increase awareness/consciousness in themselves.
You shared that you make consistent efforts to incorporate non-Western techniques/modalities into your practice when clinically appropriate/indicated. What are some examples of those techniques?
Depending on what someone is open to or looking for, I incorporate discussion or planning on what calls to them.  At times there can be familial/ancestral practices that assist the client in their coping. I practice and can explore spiritual practices that are outside of a standard religious paradigm. I also explore treatments that can be used alongside therapy, such as acupuncture, Reiki, sound healing and other non-Western approaches. 
What does self-care look like to you? How do you self-educate?
Continued learning and personal growth is definitely part of my self-care.  I like reading, listening to podcasts or online learning.  I am part of a Holistic Therapist Women's group that is a big support and growth point.  I love time with loved ones, nature, my dog, and practicing rest and mindfulness.
Having recently relocated to Nevada, you are now dually licensed there and in California. In what way(s) has this proven beneficial to your practice?
It's given me the opportunity to expand the geographical areas of service I can reach.  I now have clients located in Nevada as well as California and it's been nice to grow.
Prior to becoming a practice owner, you provided clinical services in the Community Mental Health arena. More specifically, you worked with the VOC (Victims of Crime) population. How did doing so impact the overall quality of your service provision to those clients as well as non-VOC clients?
I think it gave me a great education on what problems folks in the community were facing. I got to help people in abuse situations, gang related issues, individuals struggling with loss, low income and often immigrant populations. Like the work in psychiatric care, it gave me a firsthand clinical understanding and allowed me to learn so much about those I was assisting, as well as different clinical approaches.
You also have previous experience providing court-appointed domestic violence group therapy. Were you able to incorporate any elements of trauma work into those groups? In what way(s)?
Because it was court appointed and because they were the perpetrators it was difficult to see the introspection and ownership it takes to see willful change, but I was able to incorporate trauma work via psychoeducation. The hope is that there be some sort of reflection with understanding cycles of abuse and the impact it creates.
Who is someone you admire or look up to in the mental health field?
There are a lot of folks. From some of my old professors who first lit my spark for therapy, to my current colleagues and fellow therapists in my women's group.  I feel constantly impressed and motivated by the people I see in this industry.
What is a commonly held belief about therapy/mental health that you fervently disagree with? 
There are a lot of unfortunate misheld beliefs and stigmas about this field.  I would say the one that stands out is that therapy is for 'crazy people' or someone that is weak minded.  I think it's exactly the opposite.  It takes a lot of courage and strength to look inward, take ownership and commitment to change.  It is disheartening that the medical field, which is often respected and sought after, isn't seen in the same way or level as the mental health field.  We are one whole organism in need of care.  
As far as your future professional self is concerned, you mentioned that you have an interest in becoming certified in Reiki and Breathwork as well as facilitating women's retreats, workshops, and other speaking engagements. How do you foresee those additional practices positively informing your healing work with clients?
I think the wider array, the wider the net you can cast in your ability to work on healing in general. There are many ways to approach healing, which is why I love the holistic approach. We can find healing via many modalities and different people may resonate to one modality and not the other.  I also feel like somatic and energy work is a big part of our overall system and can work well alongside the emotional and cognitive work.
Is there anything else to know about you that I didn't inquire about?    
No, these are all great and methodical questions!
Other Related Blog Articles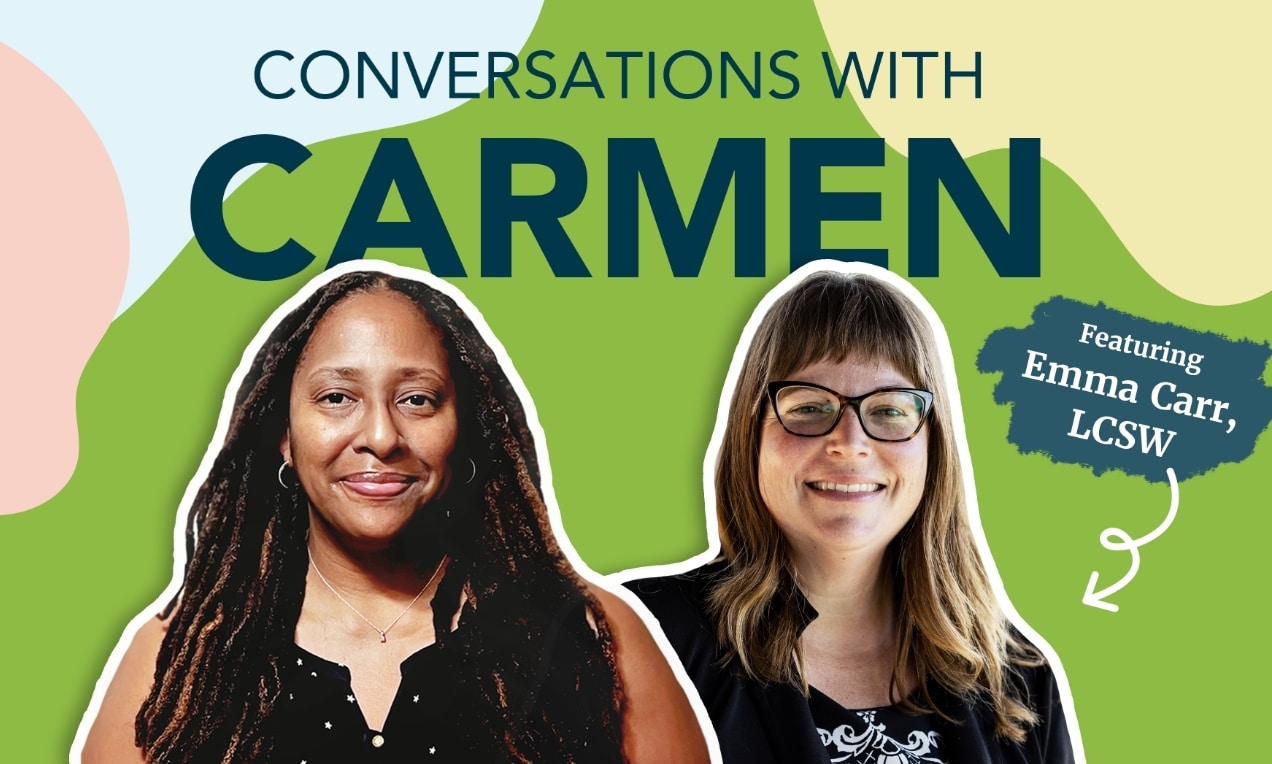 This month's installment of Conversations with Carmen features Emma Carr. Discover captivating insights into h...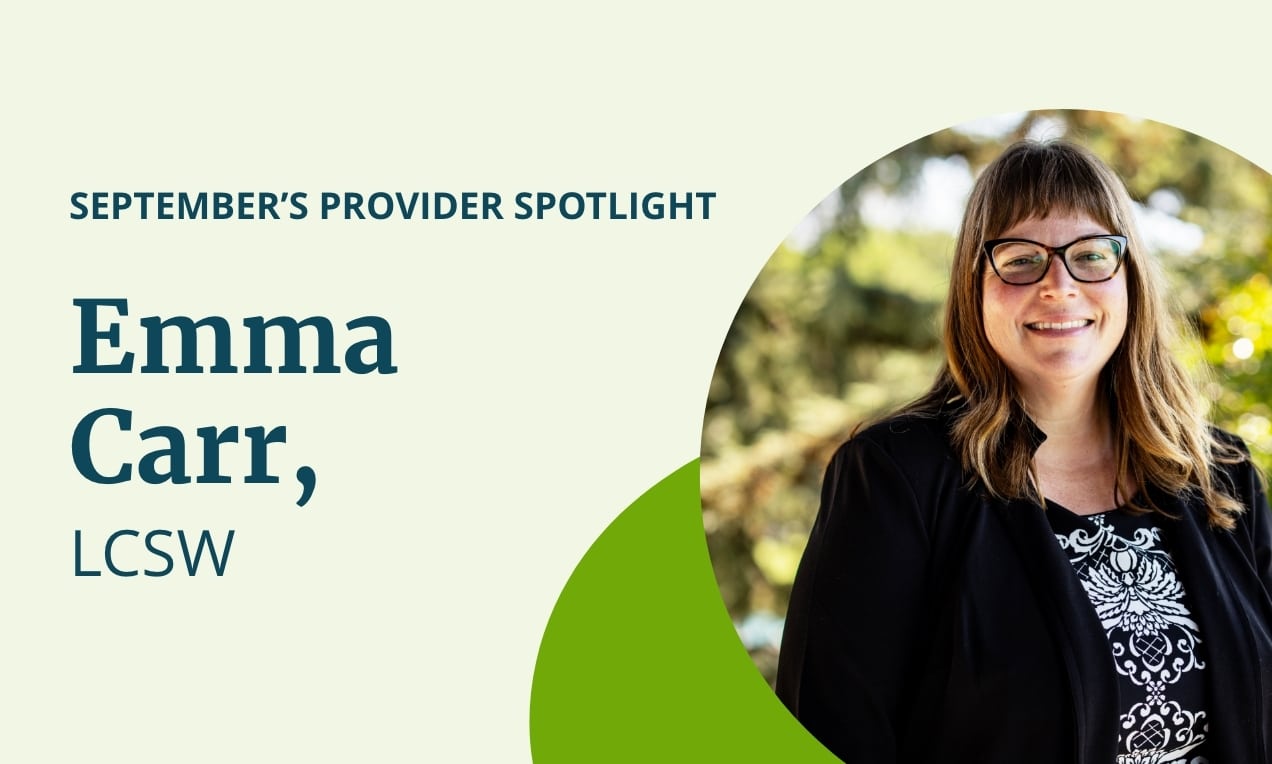 Congratulations to Emma Carr on being the Provider Spotlight of the Month for September! She has been running a succ...
Soultenders Main Blog Categories