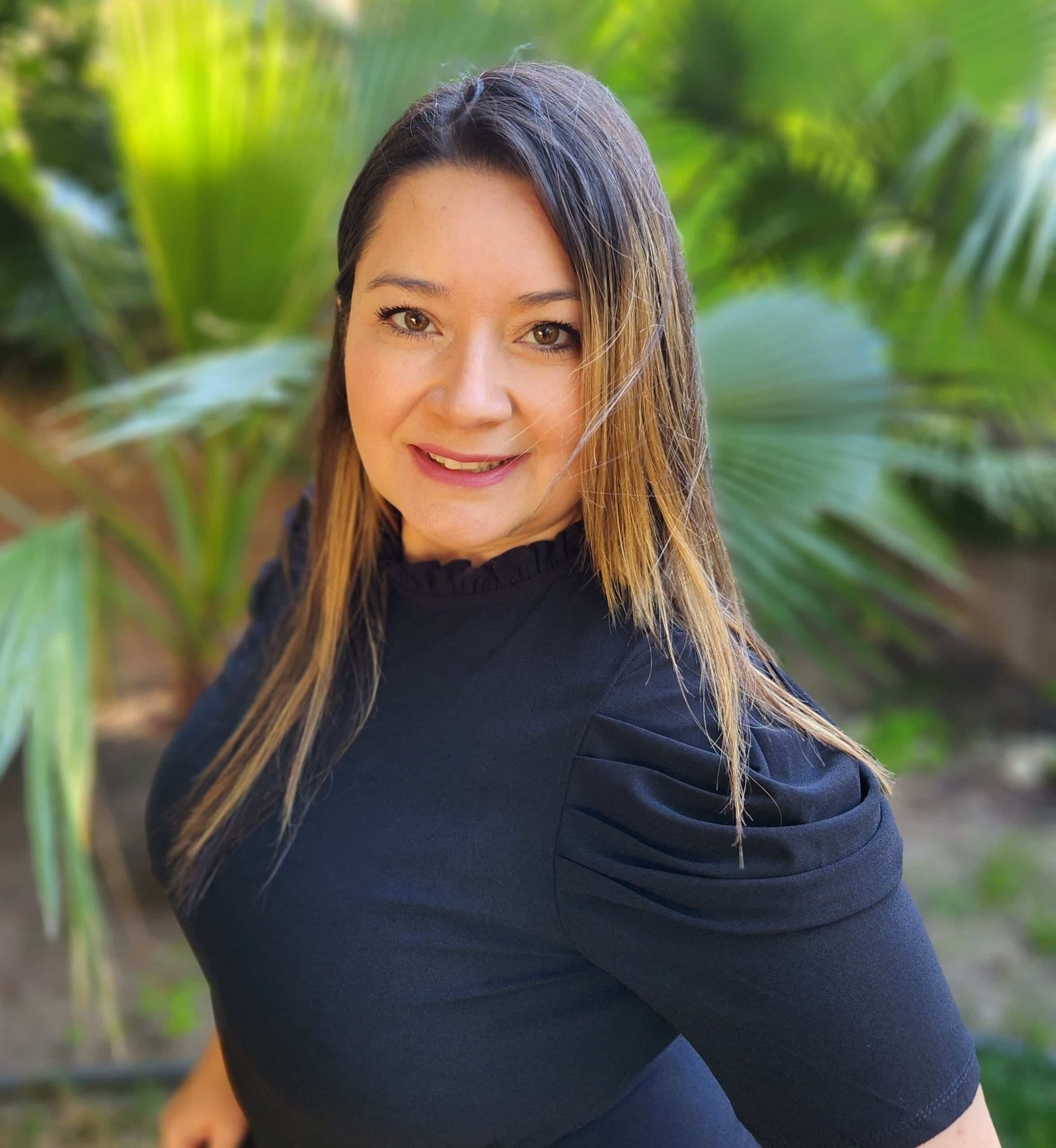 In the July installment of Conversations with Carmen, Dr. Carmen Majid explores how Mayra Hernandez transitioned to private practice in 2019 after extensive experience working with developmentally disabled clients and in Community Mental Health. 
Watch the interview in the video to learn more about Mayra and how she quickly adapted to the challenges brought by the COVID-19 pandemic, embracing telehealth treatment for young children. You can also read the full interview below.
You shared that you joined the Soultenders provider network in late 2019 subsequent to having worked with developmentally disabled clients as well as in Community Mental Health for quite some time. Was what the transition to private practice like for you? How did your prior professional experiences prepare you for private practice?
My transition at first was very exciting and smooth, however, that quickly changed as the entire world was shutting down in March 2020 due to covid.  The transition came with re-evaluation, a bit of fear, and urgency to learn all there was to learn about telehealth treatment, and how the therapeutic process would need to become for individuals but particularly for young children. I have worked in different settings, and have been able to learn from different professionals, and accepting that there's a learning curve with all new adventures helped through the transition.  My professional experiences have taught me that in this profession there's always something new to learn, to practice grace with others and myself, and to not be afraid to ask for help, and that there are many willing to assist you.  I have been very fortunate to have many colleagues willing to consult or assist with small and big challenges.
You shared that your first endeavor in working with clients involved volunteering at a mental health wellness center (facilitating self-care groups as a bilingual provider). How would you describe that experience? What were some of your takeaways?
It was also a humbling experience as I begun to understand the impact that mental illness has on individuals. My biggest takeaway from this experience was that it is crucial to approach mental illness with empathy and open-mindedness, as it impacts the lives of many individuals in profound ways.
You shared that subsequent to working at the mental health wellness center, you stepped into the role of Service Coordinator at one of the local Regional Centers. While functioning in that particular role, you specifically interfaced with children who had developmental disabilities and who were residing in foster care placement/licensed care homes at the time. Considering the intersectionality between developmental disabilities, the foster care system, the family court system as well as responding to the needs of your clients via community outreach and service coordination, what would you say were your most poignant learning moments?
One of the most poignant learning moments while I worked at the Regional Center was when I attended meetings, appointments, or court hearings and often the client was unaware of why they were there.  Everyone there held a professional capacity to assist the client, however, at times the individual was not provided with the space to share their wants; Of course there were many obstacles, at times the clients' cognitive abilities were barriers but, in those instances, parents' wishes or concerns were ignored.  I quickly learned that these parents needed someone in their corner, and the client a voice.  I realized that effective communication and collaboration with other professionals would be key in fostering understanding of the clients' barriers, needs, and wants.  I was able to find common ground with other agencies involved and help re-align our efforts toward the shared goal of creating a better quality of life for the clients.  
You mentioned that your original post-undergraduate plan was to attend law school. However, you crossed paths with a supervisor who ultimately contributed to your decision to pivot into mental health. What can you share with us about that journey?
What I can say is that she did a beautiful thing for me.  She planted a seed that came with support and confidence that I could do this work. She saw my strengths and built on them, provided the courage that perhaps I was lacking and saw potential or a gift I didn't see in myself.  She became instrumental in my advocacy work, and clinical skills, and her passion for this field was undeniable and contagious.  
After working in the Regional Center setting for ten years, you transitioned to Community Mental Health and provided therapeutic services as a school-based clinician (utilizing symptom focused interventions/Evidenced Based Practices). Can you please elaborate on how EBPs are applied in a treatment setting and what some of the typical anticipated clinical outcomes look like?
Evidence Based Practices are applied through assessment and diagnosis by conducting a comprehensive assessment: understanding the client's history, symptoms, behaviors, barriers, strengths, and the client's goal for treatment.  Based on the information gathered, we decide on the best evidence based practice that the client may benefit from based on research and evidence of the effectiveness of that practice on the presented symptoms.  A treatment plan is developed through collaboration with client, the goals need to be attainable, and measurable. Based on the evidenced based practice and treatment goal we begin to implement the interventions.  It requires ongoing monitoring and evaluation of client's improvement in symptoms, setbacks, and the  client's overall level of functioning. Evidence Based Practices require fidelity to ensure that we are using and implementing adequate interventions.
The anticipated clinical outcome is symptom reduction, for example less intrusive thoughts or anxiety. We expect the client to improve in their overall functioning: socially/relationally, vocationally, and personally; we also see that due to the structure that these evidence based practices provide individual are more engaged in treatment, as they believe in the purpose and benefits of the interventions.
You shared that a substantial portion of your work in CMH involved providing treatment services to the Latino population. Based on your experience, what are some unique considerations to keep in mind when working with this client population?
The Latino population is very diverse and its extremely important to acknowledge that religious practices, food, language may vary significantly. Sure, there are many similarities too,but it's important to not get lost in the similarities as the differences are where most clients find love and value in their culture and beliefs. There's a vast mental health stigma in the Latino community and seeking help may be frowned upon due to fear of the systems in place.  Many people worry about their immigration status as this is oftentimes a major stressor in families.
What are your thoughts on intersectionality? How does intersectionality factor into your work with clients?
Intersectionality acknowledges that individuals have multiple identities, such as race, gender, sexual orientation, socioeconomic status, language, disability and more which intersects and shapes their experiences and access to resources.  This framework allows me to understand the unique challenges based on their intersecting identities. Recognizing these intersections helps me better understand the complexity of their experiences and the various forms of discrimination or privilege they may encounter. By acknowledging and exploring the intersections of identities, I strive to create a more inclusive and culturally sensitive environment where my clients feel safe, validated, and experience a sense of belongingness.  In addition, intersectionality informs my clinical approach in treatment and allows me to work collaboratively with my clients and helps me tailor treatment specifically to that individual. 
I believe it was during your work in CMH that you discovered your interest in specifically working with teens/adolescents and families. What aspects about working with these populations peeked your interest the most?
I think that adolescence is a critical phase in development as there is a lot changing in their lives: physical changes, emotional changes, and cognitive changes.  I feel that I can make a lasting impact on their growth by providing support and resources.  Additionally, I find that witnessing the positive changes and growth within a family system is incredibly rewarding.
How do you measure client success/strides? How do you address clients who may experience a moment of setback or regression while in therapy?
Measuring client success is a collaborative approach. We engage in reflective conversation on their experiences, identify areas of improvement and work towards exploring any personal growth on their part. In addition, we look at overall functioning and overall satisfaction.  When a client is showing up weekly to sessions, that is indicative of progress.  When it comes to setbacks, I find that it is a moment of normalizing that setbacks are part of progress; progress is not perfection.  I also find that setbacks are a great clinical opportunity to practice emotional regulation, problem solving, and resilience building.
You facilitated a number of psychoeducational groups and workshops while working in CMH such as a group for depressed adolescent girls, a group for children with ADHD as well as educational workshops for community and school based staff. How did working in these forums foster your professional growth and development?
This experience provided insight and deeper understanding into the unique challenges faced by these individuals as well as techniques and resources that are needed for the effectiveness of treatment. The experiences in the community allowed for further cultural competence, empathy and understanding of the unique needs and perspectives of different populations.  It promoted collaboration with school staff, parents and other clinicians creating an environment that is supportive to the community and the children receiving treatment.
You mentioned that your areas of clinical expertise include working with families, working with teens/adolescents experiencing anxiety and/or depression as well as working with individuals navigating trauma. Are there other areas of clinical focus that you would like to become more adept in (including additional trainings and/or certifications)?
I would like to broaden my experience in working with couples. I have completed Level 1 of the  Gottman Method, however, Covid happened, and I have postponed it.  I am also interested in becoming certified in Dialectal Behavioral Therapy.
You referenced being trained/certified in certain EBPs (Evidenced Based Practices) such as MAP (Managing and Adapting Practice) /MATCH-ADTC (Modular Approach to Therapy for Children with Anxiety, Depression, Trauma, or Conduct Problems), TF-CBT (Trauma Focused Cognitive Behavioral Therapy), DTQI (Depression Treatment Quality Improvement) as well as Positive Parenting. Can you please briefly elaborate on each?
MAP/ MATCH-ADTC

was designed for children and adolescents to address common mental health concerns: Anxiety, Depression, Trauma, or Conduct Disorder and allows flexibility in adapting/tailoring interventions specific to the individual that you are working with.

TF-CBT

(Trauma Focused Cognitive Behavioral Therapy) was designed to help children, adolescents (3-18 years old) and their families who have experienced traumatic events. TF CBT includes components of psychoeducation, skill-building in emotional regulation, trauma narrative- which is a structure way of retelling the traumatic events, cognitive processing/ restructuring to help the individual develop more balanced beliefs regarding themselves and the traumatic event, and finally the gradual exposure to help confront and process the trauma.

DTQI

(Depression Treatment Quality Improvement) is used to treat depression for children as young as 12- 18 years old, and has three modules, cognitive restructuring, behavioral, and social enhancement.

Positive Parenting Program

(Triple P): promotes a healthy parent-child relationship, prevents and addresses behavioral and emotional problems through positive reinforcement, setting clear expectations and rules, effective communication, problem solving, and self-regulation for parent and child.
What theoretical orientation(s) do you utilize in your practice?
I would say I use more of a Person Centered and Psychodynamic approach.  However, I do tailor the approach depending on each client's needs.
What are your hobbies/free-time interests? What does self-care look like to you?
Over the years self-care has changed for me, currently my approach is asking myself: What does my body need today? 
I typically workout in the morning before my work day gets started.  I look forward to my Friday and Saturday mornings as these are days I use for self-reflection with my cup of coffee and dog by my side.  I journal, meditate, and do light stretches. I also enjoy nature; in recent years, (post- Covid) I started gardening.  I like to think of self-care as a large spice rack that I can pick from each day.
Is there anything else that you would like us to know about you that I didn't inquire about?
In the future, I would love to write a book.  I'm not sure yet what that would look like, but it is a goal of mine.
Other Related Blog Articles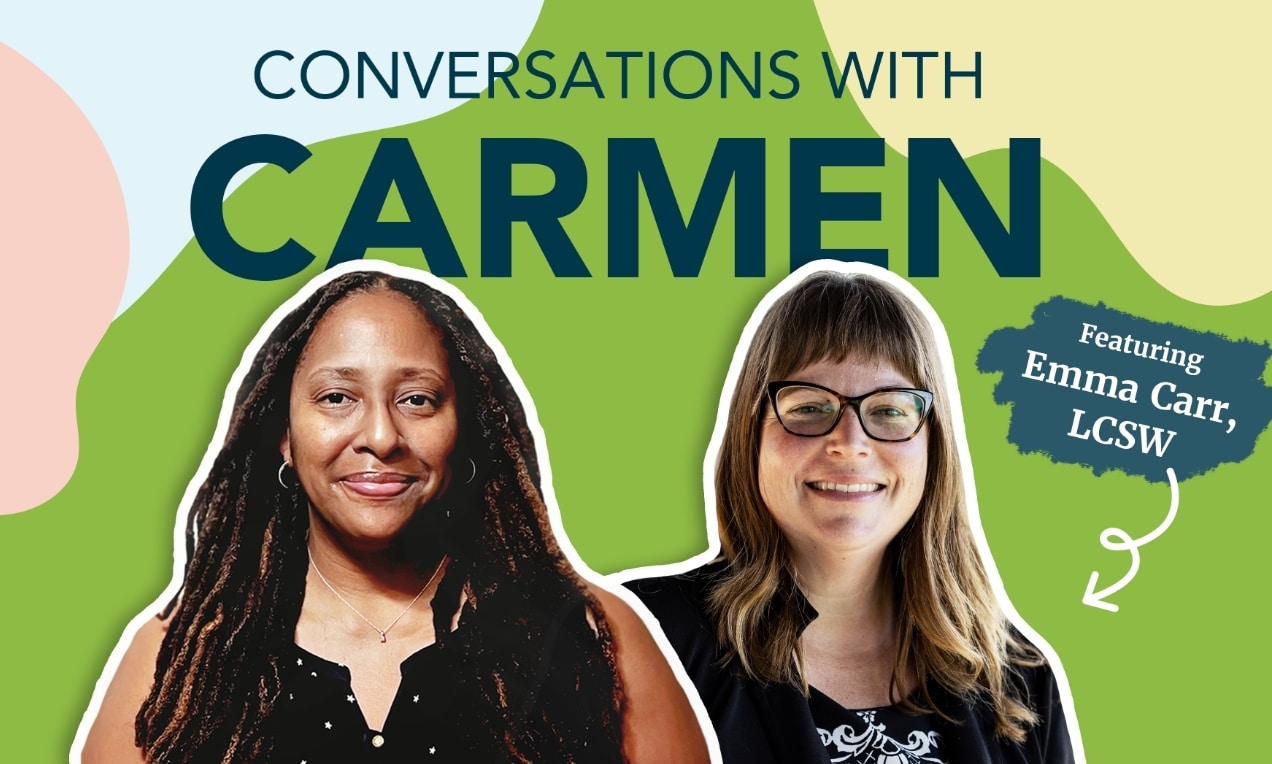 This month's installment of Conversations with Carmen features Emma Carr. Discover captivating insights into h...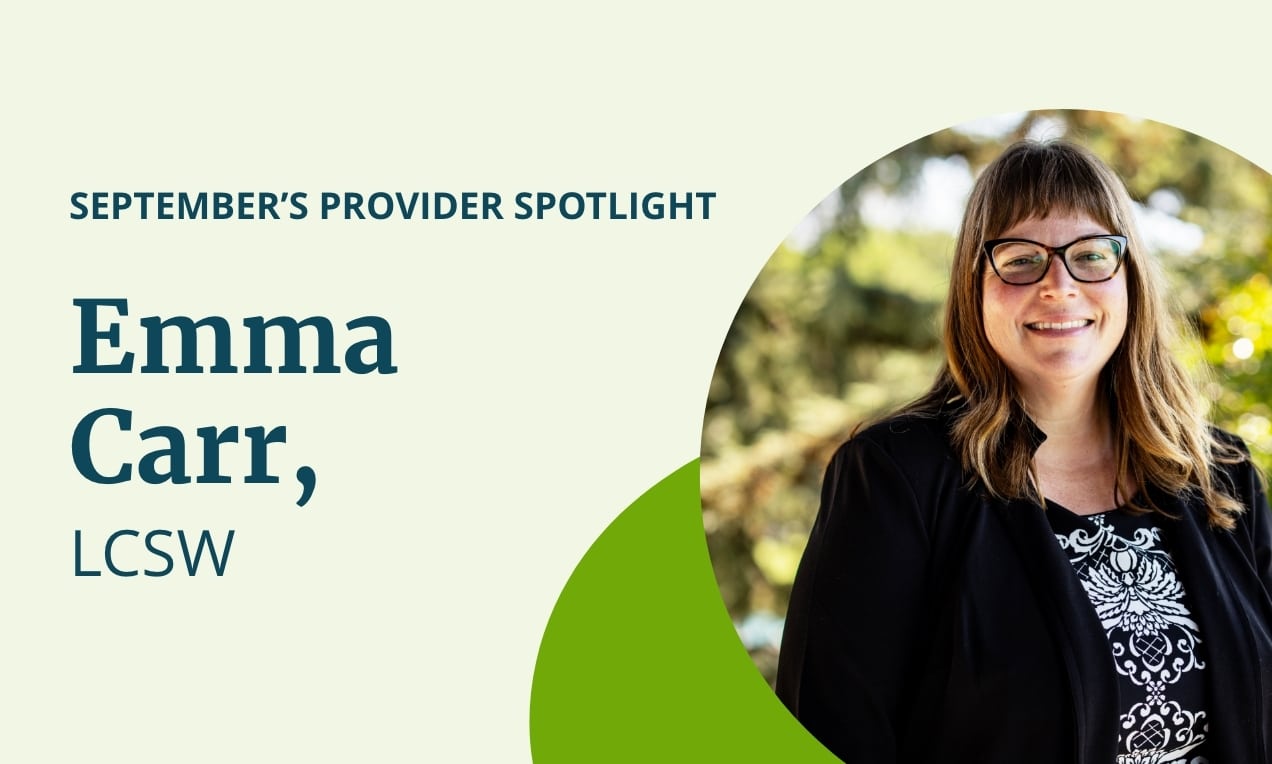 Congratulations to Emma Carr on being the Provider Spotlight of the Month for September! She has been running a succ...
Soultenders Main Blog Categories