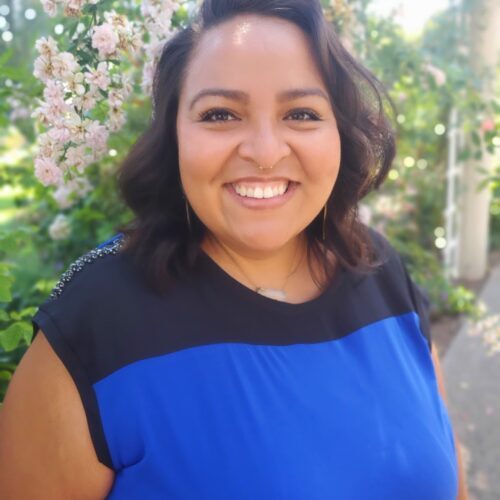 In the March installment, Dr. Carmen Majid explores how Claudia Reyes got her start in therapy and the positive effects that working in Community Mental Health had on her path to where she is today.
Read the full interview below to learn more about Claudia and the framework for identity support that she developed over 15 years of practicing therapy.
You shared that you joined the Soultenders network in mid/late September 2019. Can you share with us how that journey began?
After being in community mental health for over a decade, 8 of those providing direct therapy to clients, I wanted to venture into being in leadership, which I did by becoming a program manager and a clinical supervisor.
After about 2 years of being in leadership I felt the urge to return to work with direct clients and when that opportunity was not accessible in my own agency, I decided to volunteer for several months at Homeboy Industries. There, I was reminded of my passion to work directly with clients.
And after taking time to take stock of what I had achieved for the last decade, I knew it was time to listen to my gut and take the Private Practice journey. I knew it was a new opportunity in my life to lean closer to myself and my passion and hence began my PP journey.
A good portion of your professional history consists of having worked in Community Mental Health (including navigating the world of DMH) for ten years as a direct service provider, a program manager as well as a clinical supervisor. How did working in those capacities prepare you for your private practice journey?
I joke that if you can do Community Mental Health you can do anything, almost. But all joking aside, as much as Community Mental Health has its imperfections, I believe that one of the most powerful learning opportunities happens inside those four walls. Community Mental Health builds critical thinking and crisis management through its structure of ongoing support of a team of clinicians, oversight from experienced clinical supervisors and managers, individual and group supervision for both unlicensed and licensed clinicians. When you're working with Community Mental Health you are working with a family of clinical support.
Community mental health prepared me to work in macro and micro settings. And having had that opportunity to see that I am strongest in a micro setting it prepared me for private practice. In also working in leadership I strengthen my communication, assertive, and boundary skills, a skill that I bring into private practice with my clients.
Are you originally from California? Where did you grow up?
I grew up in Los Angeles but was born in El Salvador and immigrated to the US with my family when I was 6 years old. I love Los Angeles, it's the greatest city in the world. I went to Title IV schools and I am so proud of that because it was a perfect example of learning how to explore my own capacities despite the blocks being stacked against me.
You spoke to three areas of personal strength that enable you to thrive in your practice: working uniquely with adults, working with and conceptualizing clients from an intersectionality perspective as well as initiating transparent conversations with clients about the respective differences (ethnicity, culture, race, orientation, etc.) between you and them at the very beginning of treatment. Can you elaborate on each of these personal strengths?
Very early on in my career I discovered that my clinical strength lied in working with adults. My clinical journey pushed me in the direction of working with kids and adolescents and I very quickly found out that I could really enact change in the family system by working with parents. When PP arrived in my life, I knew that I could be the most supportive with adults and enact growth and change in their lives.
Creating a safe cultured-center clinical environment means exploring intersectionality in the clients. This allows therapy to become a supportive and a healing environment that focuses on the diverse and intersecting identities of the client. Seeing, acknowledging, and speaking to someone's entire self, promotes healing from societal and familial expectations. And when this can be achieved, clients can heal from their own generational trauma.
I believe that safety lies in acknowledging our differences for the purpose of learning and listening. Which is why making space for the diversities of my clients is important. Marginalized groups work very hard to make others feel comfortable and in the space of therapy it is my job to ensure that every person with an intersectional identity feels at home, so speaking of our cultural differences and gender differences (to name a few) makes it so that the clients know that they are the expert of themselves and they are fully seen and accepted in this space.
Who do you consider to be inspirational, influential women? Are they mentors? Professors/supervisors? Family members? Friends?
I am so lucky to find myself surrounded by strong women. Women from all walks of life, immigrant women, first generation women, educated women, women educated by life, women of color, queer women, trans women. I find that the most influential and inspirational women in my life are my mother and sister. Two people who showed me the beauty of strength and love with a lot of wit and sarcasm. And through my life journey I have made friends, both personal and in a professional setting, that inspire my personal growth through their own personal growth. Being a Latina immigrant woman myself means having to work twice or three times as hard to access and achieve goals, but being surrounded by strong women creating paths and opening doors for each other and others inspires me to do the same.
How have these women impacted the manner in which you show up in your work with clients? Life in general?
A couple of ways, first is by showing up with compassion, I am gifted the gift of compassion by my strong women who have the pressure of societal expectations weighing on them. And being gifted compassion by strong women means that I can show up with compassion for my clients.
Secondly is by taking up space. The women in my life take up space, unapologetically. And I want to be able to give that space to my clients, that their traumas, feelings, and thoughts deserve space and deserve tending to.
How does being a Latina woman with a thriving private practice intersect with your professional identity?
In so many ways! Being an immigrant Latina woman who owns her business in Private Practice challenges all social constructs established for people with intersectional identities such as myself. It challenges the Latinx narrative of shame around mental health. It opens up opportunities for clients with diverse backgrounds to access multicultural therapy, including Spanish speaking therapy. It allows for Latina women to access therapy with a Latina woman and not have to explain the nuances of their culture.
How do you build rapport with your clients? How do you measure client success/outcomes?
Transparency, I want to know what the client is hoping to achieve and I am transparent on how I work and what they can expect. I've learned that this reduces the pressure of therapy on the client; they can ask questions and it minimizes the power deferential that naturally exists in therapy. I also point out and discuss our differences in the first session, such as cultural and ethnic differences (including asking a person with a different cultural and ethnic background how they feel about working with a Latinx woman), to the introduction of my pronouns to invite safety in the room.
 What is your primary treatment modality?
I am certified in CBT and use it in conjunction with Family Systems Therapy and Solution focused therapy.
How do you like to spend your free time? What keeps you grounded/centered/mindful?
I love a good meal with friends! I love nature, like a stroll in a garden, a hike, or a day at the beach. But in the last couple of years, I have found grounding in my body. I do strength training, yoga, and meditation on a weekly basis, it has brought me closer to myself and my internal dialogue.
How do you manage countertransference?
Checking in with myself and colleagues. First checking in with myself allows for me to resolve internally. If I am retriggered, I access the support of my colleagues.
In addition to your CADC (Certified Alcohol and Drug Counselor) (I don't have my Certification, I graduated with an MFT with a specialty on Alcohol and Drug Addiction) and Trauma Based CBT (Cognitive Behavioral Therapy) certifications, you have specialized training in Grief and DBT (Dialectical Behavior Therapy). Can you elaborate further on each of these specialties?
In my specialty in Drug and Alcohol Addiction I am able to support clients identify their dependencies, the triggers, and ways to receive treatment/support.
With Trauma Based CBT I am able to support clients with complex traumas and mood disorders by helping them modify distorted or unhelpful thinking and negative reactions and behaviors.
I recently began working on building my grief skills, with the support of an esteemed colleague I was able to see clients' pain from a grief perspective. In doing so it allowed me to build compassion for my clients and helped clients build compassion for themselves.
I know the value of DBT and am able to use some of its basic skills. I hope to become certified in the next couple of years.
You shared that you are passionate about providing clinical supervision as well as participating in speaking engagements where you have opportunities to speak with MFT students about licensure, private practice as well as thoughts/perspective around working towards becoming "mindful clinicians". Can you elaborate on your idea(s) of what showing up as a mindful clinician consists of?
Showing up as a mindful clinician means being fully present and aware of what is happening in the room with the client and what is happening with ourselves as the client has emotional experiences in our presence. In the early stages of being an intern and associate MFT/MSW the clinician is learning how to trust their judgment and feel the need to introduce change to feel competent. And though I support that journey of self-trust, I also support new clinicians to trust their gut by quieting their mind (expectations of themselves to deliver).
Other Related Blog Articles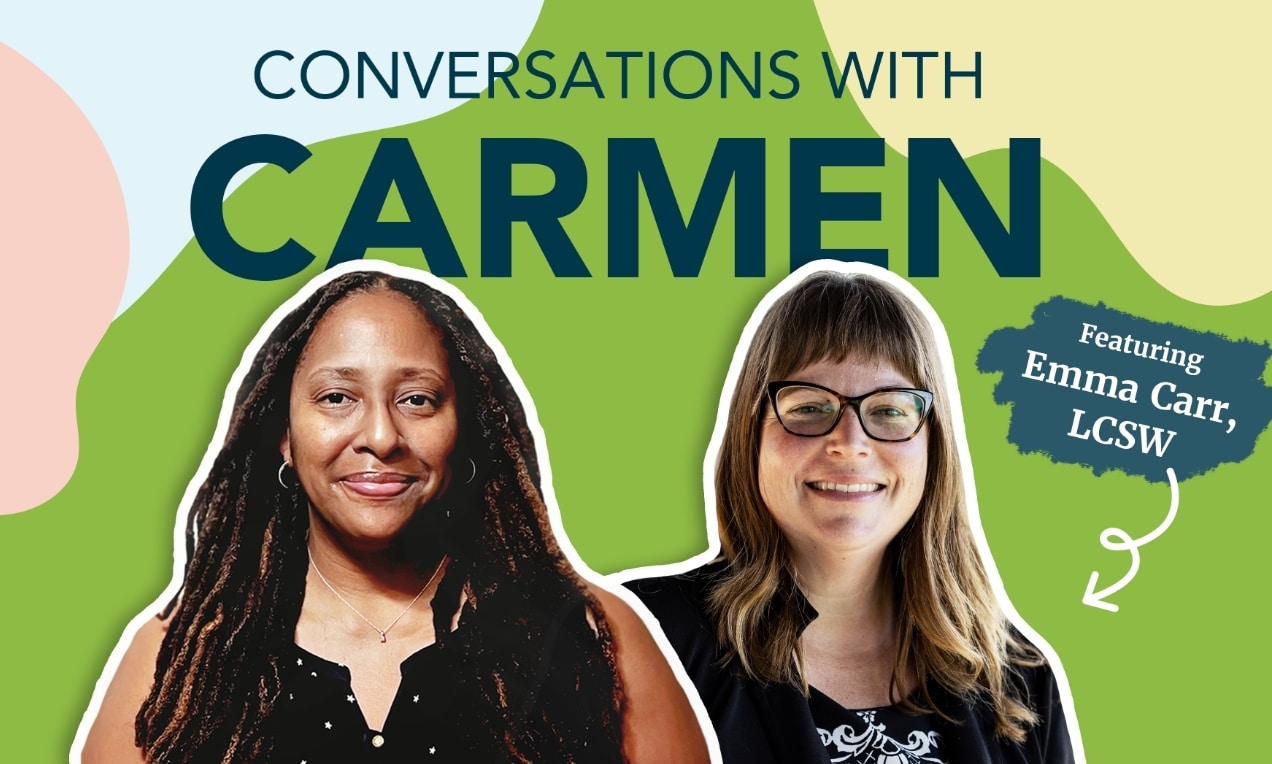 This month's installment of Conversations with Carmen features Emma Carr. Discover captivating insights into h...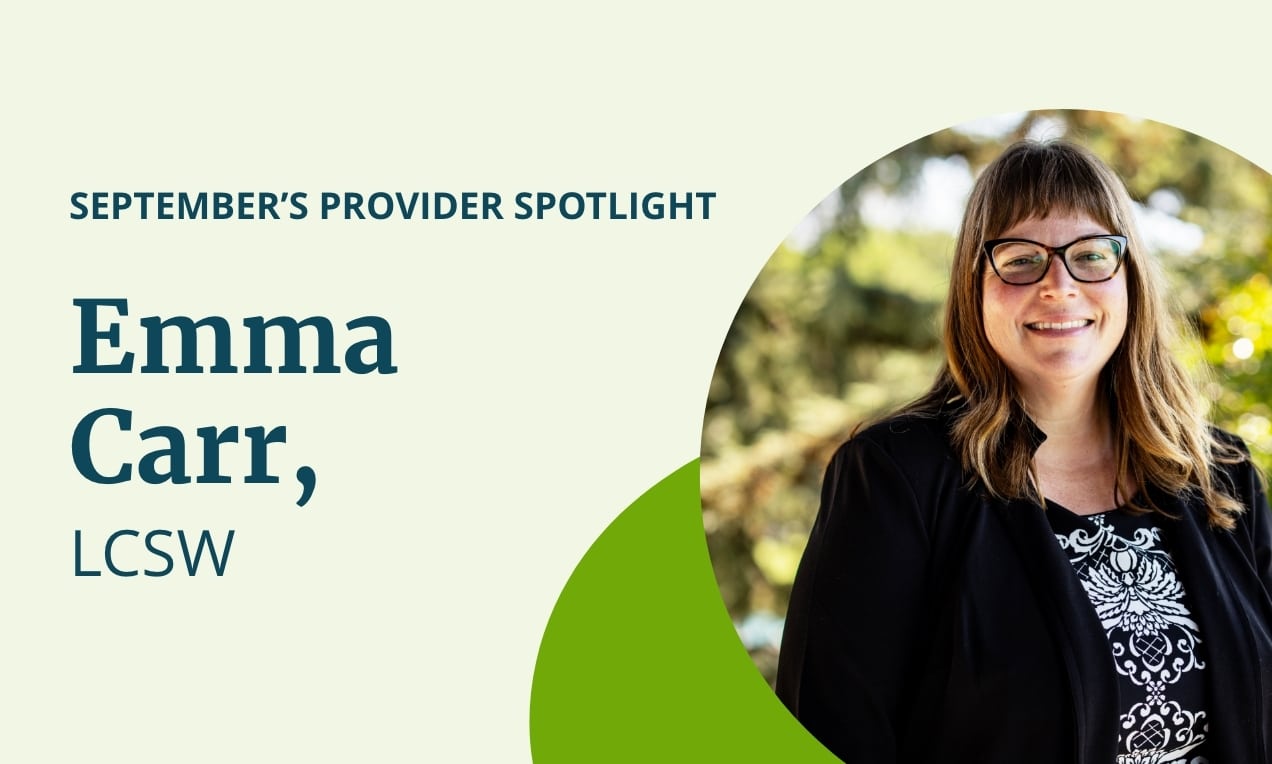 Congratulations to Emma Carr on being the Provider Spotlight of the Month for September! She has been running a succ...
Soultenders Main Blog Categories